The Hat Lady
Formal Top Hats
The Hat Lady is proud to offer these fine American made Formal Top Hats!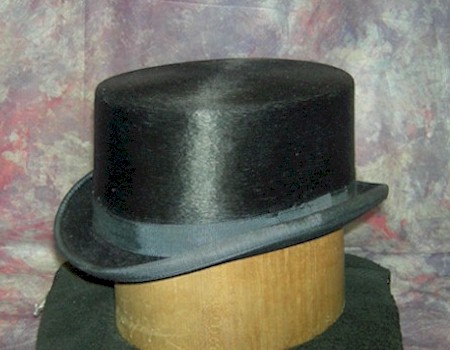 Navy Fur Top Hat
Black, Navy or Brown Fur: $550
Custom Top Hats, made from your fabric: $650
$25 shipping; varies by destination
The Hat Lady strongly recommends a Hat Can for your new Top Hat!
x
.
.
Copyright © 2017, The Hat Lady & SolarPress, all rights reserved!
Web Design by: Mr HatLady DBA SolarPress.net
this page updated: 18 April 2017 08:24

thehatlady.com: home of Terri Deering, The Hat Lady online. The HatLady is the one stop shopping source to dress your saddle seat, western, or hunt rider from head to toe. Saddle Seat hats from Beaver Brand, Langenberg and Bailey Hat Co. Hunter hat and helmets from Charles Owen and International Helmet. Hunt attire and boots from Ariat International. Cowboy and Western boots from Anderson Bean Boot Co. and Ariat International. Cow boy and Western hats from Greeley Hat Works, American Hat Company, and Baily Hat Company. Western chaps and show pants from Hobby Horse Clothing Company. Custom western horse show outfits from Diane Olsen; Ultimate Show Apparel. English and hunter bridles from Bobby's English Tack. Big D horse blankets and coolers. Spur straps and cell phone holders from Cowboy Decor.